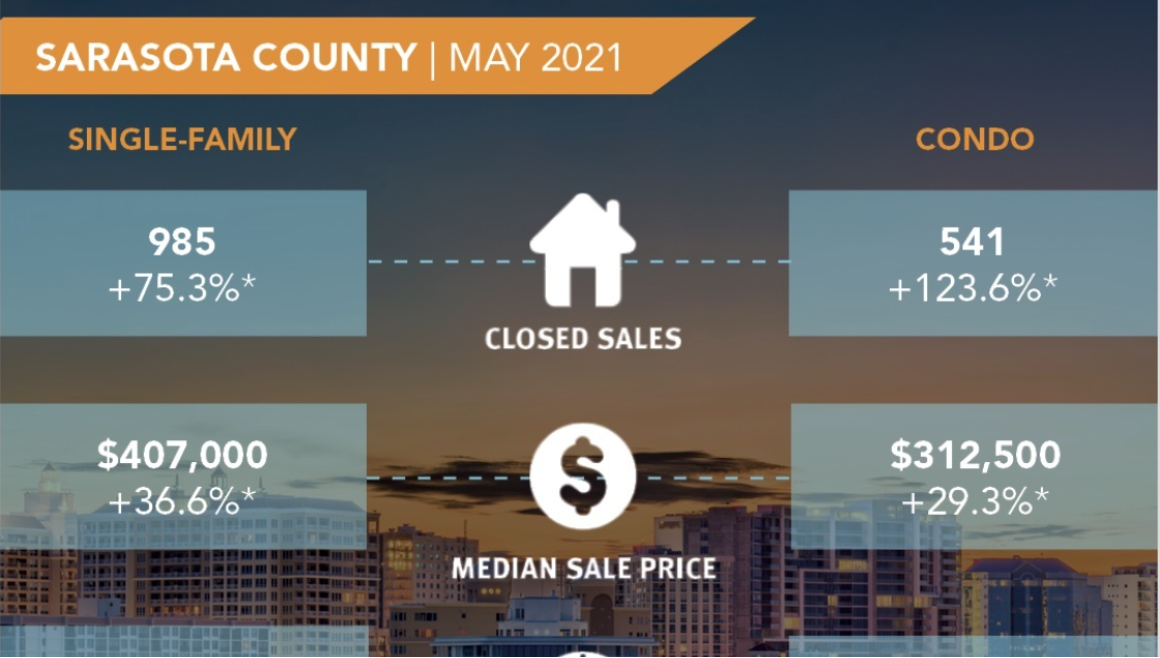 High Demand and Low Supply Fuels Rising Prices in Sarasota-Manatee
Click here for the May 2021 Press Release and Statistics. The June 2021 Year-End Stats will be released on July 22.
SARASOTA, Fla. (June 22, 2021) – Record-low inventory brings record-high prices in the Sarasota and Manatee housing market. According to data from Florida REALTORS® and compiled by the REALTOR® Association of Sarasota and Manatee (RASM), May 2021 shows an increase in sales from the same time last year, with single-family homes closing within a median of just six days. Buyers should be prepared to move quickly to snag their dream home this summer.
REALTORS® in Sarasota and Manatee counties represented a total of 2,584 closed sales in May, an 84.7 percent increase from the same month last year, with 100 percent of properties closing at or above the original list price.
In Manatee County, single-family sales increased by 66.1 percent to 739 sales, and condo sales increased by 112.7 percent to 319 sales. In Sarasota County, single-family sales increased by 75.3 percent to 985 sales, and condo sales increased by 123.6 percent to 541 sales.
"The numbers continue to demonstrate that we're in a historically strong seller's market. However, the current sales growth won't last forever. Owners waiting for top dollar may be disappointed when the number of properties available for sale eventually start to rise. With more options available, buyers will be less willing to meet a sellers' terms," said 2021 RASM President Alex Krumm, Broker Owner of NextHome Excellence.
With increased buyer demand, it is more likely to see a rise in cash sales, especially when cash offers are typically the winning bid in multiple offer situations. Condo cash sales increased by 250 percent in Manatee County and by 152.8 percent in Sarasota. For single-family homes, cash sales increased by 168.9 percent in Manatee and by 154 percent in Sarasota.
Prices are rising in the two-county area because supply remains limited. The Sarasota County median sales price for single-family homes reached a new record with a median price of $407,000 in May 2021, a 36.6 percent increase from last year. As for Manatee County, the median price for single-family homes was $400,000 in May, a year-over-year increase of 23.1 percent. In the condo market, Sarasota condos reported a median sales price of $312,500 and Manatee reported a median price of $243,595.
"Regardless of the recent price surge, Florida real estate remains on par or less expensive than the markets from which people are moving–giving those buyers the flexibility to pay more for a home while remaining relatively inexpensive compared to their previous place of residence," added Krumm. "The last ten years have proven–and decisively so–that real estate is one of the best investments in the world. Even buyers who bought at the highest point before the Great Recession have been made whole again, and in most cases are turning in a profit."
The inventory of all property types actively for sale in the two counties decreased by 74.6 percent, amounting to 4,755 fewer properties for sale than there were in May of 2020. Newly listed homes totaled between the two counties grew year-over-year by 27.1 percent for single-family homes and by 22.3 percent for condos.
The month's supply of inventory, or the estimated number of months it will take to deplete the current inventory, stayed below one month in May. The month's supply for single-family homes decreased by 78.1 percent to 0.7 months in Sarasota and decreased by 80 percent to 0.6 months in Manatee. Condo inventory decreased by 84.4 percent to a 0.7-month supply in Sarasota and dropped by 86.4 percent to 0.6 months in Manatee County.
Homes are selling quickly, as indicated by the median time from listing date to contract date. In the North Port-Sarasota-Bradenton MSA, the median time to contract was only six days for single-family homes, 29 days faster than this time last year. Condos went under contract in a median of 9 days, 34 days faster than the same month last year.
The total number of pending sales across the two-county market increased year-over-year by 12.2 percent. For single-family homes, pending sales decreased by 0.7 percent in Manatee and increased by 8.3 percent in Sarasota. In the condo market, pending sales increased by 42.7 percent in Sarasota, and by 18.7 percent in Manatee.
Monthly reports are provided by Florida Realtors® with data compiled from Stellar MLS. For comprehensive statistics dating back to 2005, visit www.MyRASM.com/statistics.