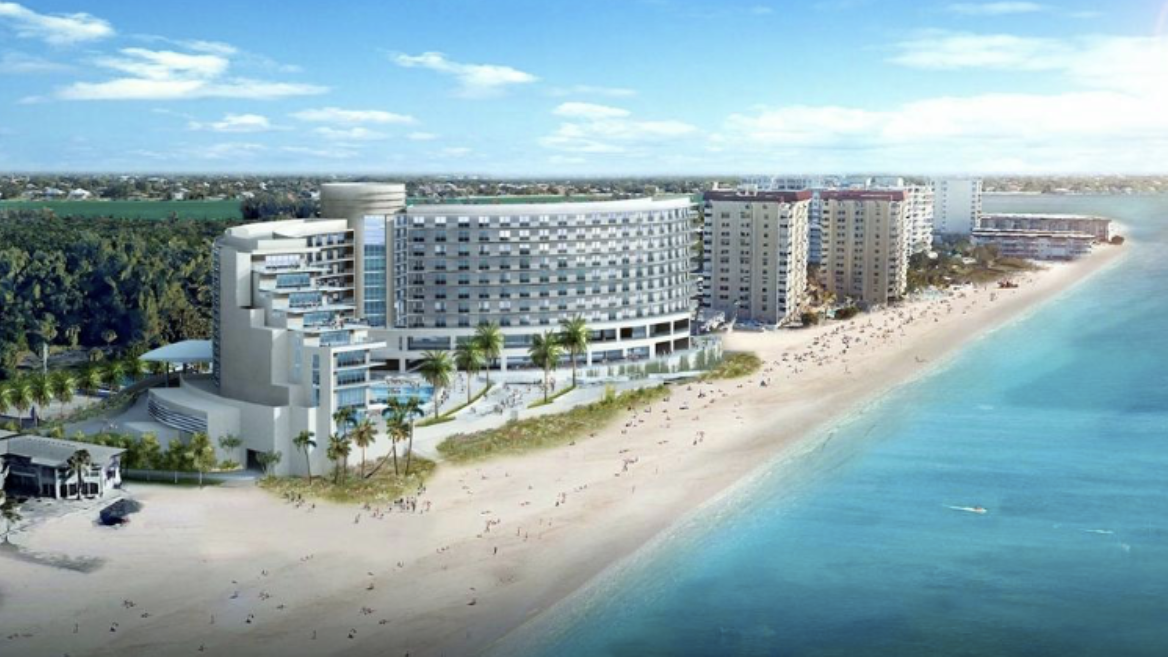 Aging Sandacaste Resort to be Re-Built as A New Resort ….. 2019
LIDO KEY — Plans to transform the aging Sandcastle Resort at Lido Beach — long known as the Helmsley Sandcastle — into a luxury contemporary resort were rubber-stamped by the Sarasota City Commission this week.
The commission unanimously approved plans and a rezoning request to redevelop the 176-room hotel, built in 1953, into a flashy four- or five-star, 304-room resort spanning two curved towers that will be eight and nine stories tall. The amenities are expected to include valet parking, a 10,000-square-foot ballroom, 5,000-square-foot junior ballroom, 7,000 square feet of meeting space, a spa, private pool with cabanas and a restaurant and bar that will be open to the public.
The planned resort, which will keep the same moniker, will replace its aging and significantly smaller predecessor on the roughly six-acre beachside site on Ben Franklin Drive near Lido's south end. Built in 1953 and expanded in the '60s, the resort is one of the oldest beachfront hotels in Southwest Florida.
It was time for a major facelift, project representatives said.
"This is the only remaining obsolete hotel of this magnitude on Lido Beach," said John Patterson, a lawyer representing the project. "It's desperately in need of being torn down and starting over again."
The existing hotel has the unique distinction of having once been owned by a multimillionaire Maltese dog named "Trouble," who was bequeathed the hotel by his and the resort's longtime owners, New York billionaires Harry and Leona Helmsley. But after the Helmsleys and eventually "Trouble" died, it briefly appeared the hotel would be sold and turned into luxury condominiums, much to the chagrin of local tourism officials who wanted one of the few remaining beachfront hotels to stay.
That became reality when a Delray Beach hotel group that also owned the Longboat Key Club purchased the property in early 2014 for $27.4 million, according to property records. They then announced the hotel would remain, rebranded as the Sandcastle Resort at Lido Beach.
Despite questions, city OKs Lido hotel…   From the Observer: 
At a meeting Monday, the city approved plans for a 304-room Lido Key hotel and declined to adjust short-term rental regulations.
by: David Conway Deputy Managing Editor
As the City Commission considered plans for a new 10-story, 304-room hotel on the site of the Lido Sandcastle Resort, it questioned whether Lido Key could handle the traffic the project would generate.
The commission voted 5-0 to approve the proposed hotel at 1540 Benjamin Franklin Drive. But before that unanimous decision, multiple commissioners expressed concern about the intensity of the project.
Since 2017, Ocean Properties Hotels Resorts & Affiliates has been working to build a new hotel to replace what was formerly known as the Helmsley Sandcastle Resort. The developer has said that building, constructed in 1953, is outdated.
The plans for a new four- or five-star hotel will increase the height from four to 10 stories and the number of rooms from 176 to 304. The project will also include a 5,000-square-foot restaurant and about 22,000 square feet of ballroom and meeting space.
Rental rules
The city won't make any adjustments to its short-term rental regulations anytime soon.
In a 3-2 vote, the commission declined to pursue revisions to its rental ordinance, which requires a minimum seven-day stay for rentals in residential neighborhoods.
Commissioner Hagen Brody advocated for a change that would allow for some rentals under a week as long as the owner or resident was on the property. Brody argued allowing host-occupied rentals would allow residents to draw a supplementary income without completely commercializing neighborhoods.
Two different groups of residents spoke about the proposal at Monday's meeting. Property owners who rent a portion of their homes on websites such as Airbnb said they work hard to ensure they aren't disturbing their neighbors. But other residents, particularly those in the Lido Shores neighborhood, said rental properties are already a problem.
Commissioners expressed concern that, even if they wanted to reconsider the existing rules, any changes to the ordinance would lead to state pre-emption of the local laws governing short-term rentals. Although Brody and Mayor Liz Alpert voted to further research the city's options, a majority of the board opted not to continue consideration of any changes.
"For us to get in here and start handling stuff we shouldn't be handling at this point in time is going to be causing greater chaos and confusion," Commissioner Willie Shaw said.
Although city staff and the Planning Board recommended approval of the project, commissioners were worried about how the 6.1-acre property would handle the increased scale of the new hotel. Commissioners Shelli Freeland Eddie and Hagen Brody pointed out the city's traffic study didn't consider the ballroom and meeting space as a distinct use from the hotel, assuming most of the activity in those spaces would come from hotel guests.
Eddie and Brody both took issue with that assumption.
"I do support the project," Eddie said. "I know they've taken into account a lot of the concerns that have been raised by the community. I just think this is going to be a great tourist attraction, and for folks that are local, they're going to want to use the facility."
Project representatives said they worked to anticipate any issues with traffic in the area. The hotel will include 601 parking spaces, 19 more than required in the code. The property will mandate valet parking for all visitors except individuals with disabilities who decline the service.
But some commissioners remained skeptical about the property's ability to handle all of the interested visitors.
"A ballroom, if it's going to be used as other comparables in this area are, is going to have hundreds of people showing up to it at one time and leaving at one time," Brody said.
City staff said ballrooms are usually not considered separately from a hotel in traffic studies, because the metrics used account for other amenities in the building.
Not everybody shared concerns about the project's effects on its surroundings. Commissioner Willie Shaw said the project would be a welcome addition to Lido Key.
"I'm not at all afraid of what we're seeing coming," Shaw said. "I'm very happy to see this project come along."
Ultimately, the entire commission expressed support for the plans, commending the developer for working effectively with its neighbors. But still, those worried about traffic encouraged staff to consider options for how to mitigate a traffic increase on Benjamin Franklin Drive if demand exceeded capacity once the hotel is built.
"I think we're going to be fine now," Eddie said. "I'm not sure whether we're going to be fine in three to five years."
"My vision for the Sandcastle is to be an exciting, unique, fresh and alluring experience, both for guests and residents of the area," said architect James Wurst of Coral Gables-based Nichols Brosch Wurst Wolfe & Associates.
Before granting approval, several commissions expressed concerns that traffic could back up onto Benjamin Franklin Drive and that parking could be inadequate.
 
"If this hotel is what it claims to be, parking is going to be a problem," Commissioner Shelli Freeland Eddie said.
City staff and developers assured the commission its mandatory valet will keep cars moving and the resort will have 601 parking spaces — 19 more than the city requires. Plus, more people use car services such as Uber and Lyft to get around and other hotels in the area typically provide free transportation around town, should guests at other lodging attend an event at the redesigned Sandcastle Resort at Lido Beach, project representatives said.
Developers still don't have an estimated cost for the likely pricey project. They expect the design and permitting process to last up to two years, with construction taking at least 18 months. The resort will be operated by Delray Beach-based Ocean Properties, which owns more than 100 hotels in North America, including Lido Beach Resort.