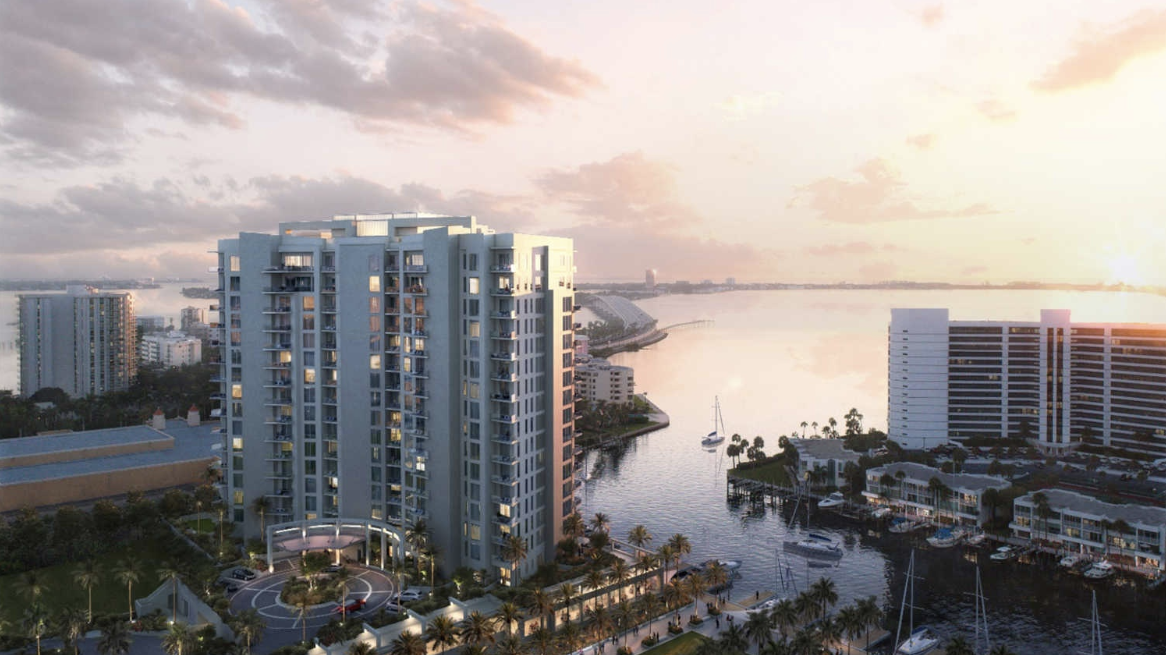 Life Served to Perfection
source: https://www.theresidencessarasota.com/press/life-served-to-perfection/?referer=MSC%20Email%20Database
For generations, an incomparable array of world-class culture and beaches has made Sarasota the crown jewel of Florida's Gulf Coast. At the pinnacle of this sophisticated seaside mecca comes the new Ritz-Carlton Residences, Sarasota.
These 73 Grand Tower Residences, priced from $2.4 million, are nestled within a pristine locale right beside the highly anticipated Quay Sarasota on the last premier waterfront site in downtown Sarasota. Residents will enjoy panoramic views of Sarasota Bay along with unparalleled private amenities, endless resort pleasures, and legendary Ritz-Carlton service.
With project development led by The Kolter Group LLC, the all new residential tower raises expectations as a heralded new standard for modern Ritz-Carlton luxury. Distinctive architecture and exquisite finishes are reflective of the highest quality, and this premier seascape location fits flawlessly with the fresh modern attitude of the evolutionary hospitality brand. Poised to become "The Best of Everything" on the west coast of Florida, the new Ritz-Carlton Residences, Sarasota offers the leading edge of effortless convenience and unparalleled pleasures—today's quintessential address for a life without limits. A majestically landscaped private drive leads residents to a 24-hour valet at the elevated porte-cochère or directly into a secured parking garage with reserved spaces and individual lockable climate-controlled storage units.
"This new tower offers a combination of world-class residential and resort amenities, legendary services, spectacular views, and walkable shopping, dining and recreation not found anywhere else in Florida."
– Bob Vail, President of Kolter Urban LLC
The moment residents enter the stunning Grand Lobby, with its soaring 14-foot ceilings and adjacent Grand Salon, they will be welcomed into an environment of water vistas and seaside sophistication unmatched on Sarasota's dazzling downtown Bayfront. Within this private realm, a Residences-dedicated staff and concierge are poised to curate every need in unsurpassed Ritz-Carlton style, from an early morning spa ritual to the finely detailed catering of an intimate evening celebration. Wishes are seamlessly granted and each day is shaped into an indelible experience. The endless array of impeccable personal services includes housekeeping, dry cleaning, car washing and detailing, plant care maintenance, pet care assistance, mail-packing and shipping, travel and vacation itineraries, grocery shop-ping, a personal chef, in-residence catering, and so much more.
AMENITY-RICH LIFESTYLE
Brimming with daily amenities for wellness, recreation and relaxation, residents can choose to be social or serene at the resort-style pool and 70-foot lap pool rimmed with lush tropical foliage. The landscaped oasis features an indoor-outdoor staffed bar and immersive entertainment areas. Inside, residents will find luxurious amenity spaces, which include cozy lounge seating, a custom fireplace, and a demonstration kitchen for catered gatherings and culinary events. The News & Sports café features a daily coffee and beverage station and comfortable seating to catch up on world news or enjoy the game on large-screen TVs. With multiple on-site meeting rooms and a private dog park with pet-washing station, the creators of this all-inclusive private world seem to have thought of everything.
And the irresistible attractions don't stop there. The exclusive Ritz-Carlton Club membership avails residents of privileges at the day spa and salon, the Ritz-Carlton Golf Club's* Tom-Fazio-designed championship golf course, Ritz-Carlton Beach Club on Lido Key, and access to a covered walkway for short strolls to the hotel's renowned Jack Dusty restaurant featuring refined coastal cuisine and handcrafted cocktails.
INSIDE THE RESIDENCES
Designed by award-winning SB Architects, this all-new 18-story residential tower presents the sought-after next generation of modern living. Offering a generous selection of finishes, each of the 73 grand condominiums is fully appointed with ultimate style and energy-efficient features. "The Ritz-Carlton is the epitome of contemporary architectural design, embodying this unique waterfront setting by seamlessly blending clean lines, natural sunlight and a serene aquamarine seascape," says Stefano Falbo, Vice President, SB Architects.
Designed to engage all the senses, these flow-through floor plans range from 3,100–6,200 square feet with soaring 11- to 12-foot ceilings. Sweeping floor-to-ceiling windows provide dynamic views, while top-of-the-line technology provides ultra-high speed connectivity for easy living. Private elevators open directly into the foyer of every dwelling, each of which sets the stage for the way people live today, complete with expansive great rooms, gracious living areas, and intimate, spa-like master suites. Exquisite details include premium flooring, quartz or natural stone countertops and gourmet kitchens with European cabinetry and large islands for dining or entertaining. Spacious terraces invite owners to celebrate open-air living year-round, with panoramic vistas spanning from east to west to soak in downtown city views, Sarasota Bay, and the Gulf of Mexico and beyond.
OUTSIDE YOUR DOOR
An exciting new energy is beginning to transform into what will be Quay Sarasota and the newly envisioned Bayfront. "There's never been a better time to enjoy the downtown waterfront lifestyle," Vail notes. "With the planned expansion of The Bay, it's destined to be a hub of Sarasota art, culture and historical legacies, as well as serving as a recreational area where families and friends can meet up and celebrate the natural beauty that surrounds them." This cosmopolitan waterfront address will offer abundant boating opportunities. Quay Sarasota has grand plans for expansion of the existing marina, with available wet slips and dry storage for large boats and yachts.
In addition to the park, plans include the Quay Commons, featuring exciting new destinations for fine and casual dining, boutique shopping, festive public events and water-inspired activities. Just steps beyond, the revitalized Bayfront comes alive with innovative public spaces and vibrant performing arts venues. Currently home to the Van Wezel Performing Arts Hall and Sarasota Garden Club, The Bay will soon include expansive piers, gardens, a kayak launch, an outdoor concert venue, and more.