CLOSED SALES DECREASE IN SARASOTA AND MANATEE AS INVENTORY CONTINUES TO GROW
Click here for the July 2022 Press Release and Statistics.
The inventory of active listings in the two-county region continues to increase year-over-year in July 2022. According to data from Florida REALTORS® and compiled by the REALTOR® Association of Sarasota and Manatee (RASM), closed sales have once again decreased overall, while the month supply of inventory increases, along with the median time to contract. Another month of record-high prices coupled with the rising mortgage rates point to the increase in inventory this month, with active listings increasing by more than 100 percent from last year.
REALTORS® participated in 1,738 sales across the two-county region in July, a 22.8 percent decrease from the same month last year. In Manatee County, single-family sales decreased from last year by 22.2 percent to 567 sales, while condo sales decreased by 20.9 percent to 204 closed sales. In Sarasota County, single-family sales decreased by 23.1 percent to 678 sales, and condo sales are down by 24.5 percent to 289 sales.
"With higher interest rates and inflation impacting our market, the number of sales continues to decrease and the number of properties actively on the market continues to increase," said 2022 RASM President Tony Veldkamp. "While our active inventory of single-family homes has finally reached a two-month supply in both counties, we deem a healthy balanced market as a six-month supply."
The median sales price in the two-county area continues to increase, with Sarasota County seeing record- high prices. In Sarasota County, the median price for single-family homes increased by 31.3 percent year- over-year to the highest recorded price of $525,000, while condo prices increased by 24.1 percent to $390,990.
In Manatee County, single-family home prices increased year-over-year by 21.2 percent to $521,000. The median price of condos in Manatee County was $354,500, which is a 41.8 percent increase from last year…
For more More and Graphs : click here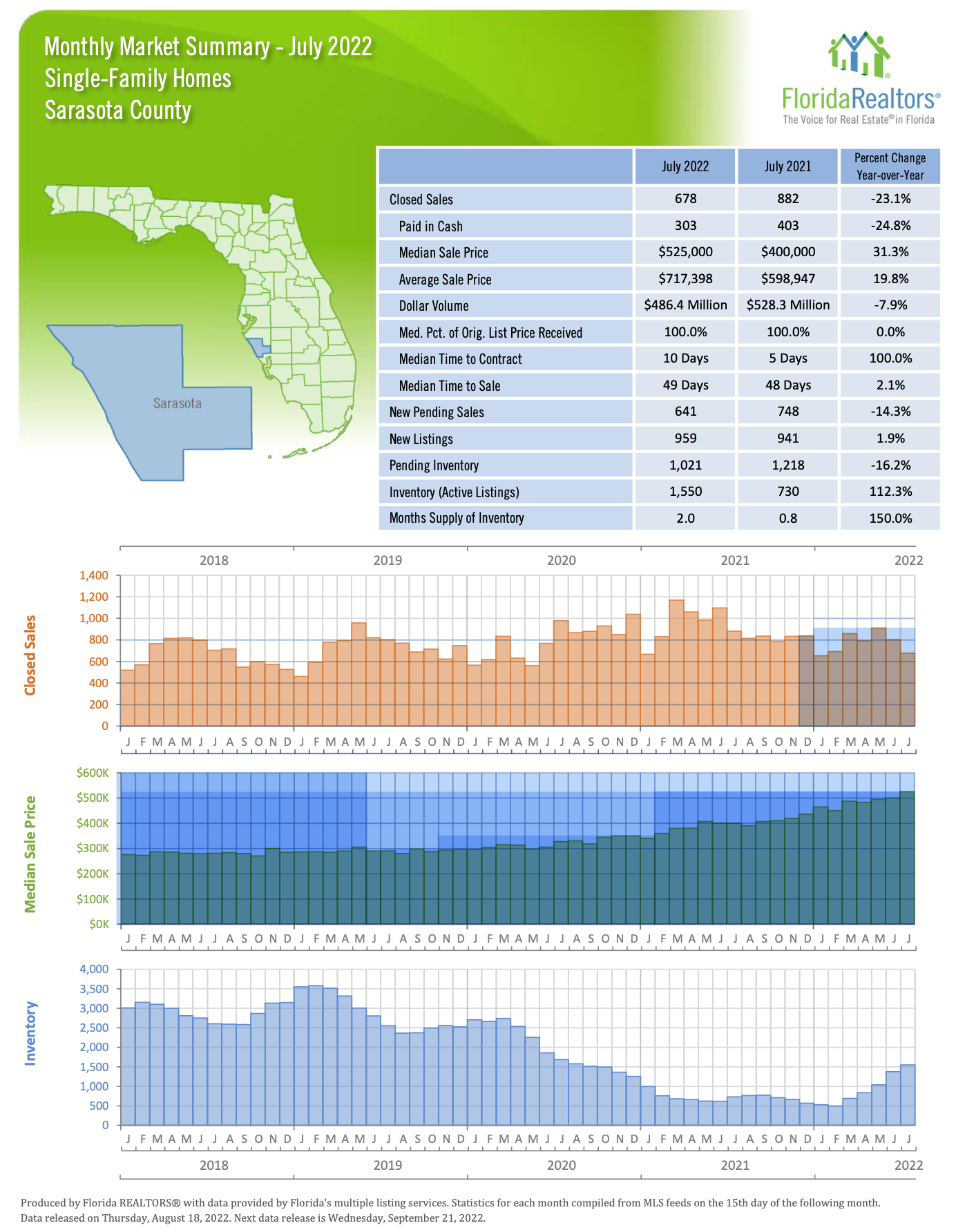 NATIONAL MARKET UPDATE
Realtor.com reports active inventory continues to grow, up 30% from a year ago. This jump in supply gives today's shoppers an extra home to consider for every three that were on the market this time last year.
Freddie Mac tells us: "Declines in purchase demand continue to diminish while supply remains fairly tight….The consequence is that house prices likely will continue to rise, but at a slower pace for the rest of the summer."
Home price growth may be slowing, yet the National Association of Realtors reports 148 of 185 metros still saw double-digit annual price growth in the second quarter—that's 80% of the markets, up from 70% in the first quarter.