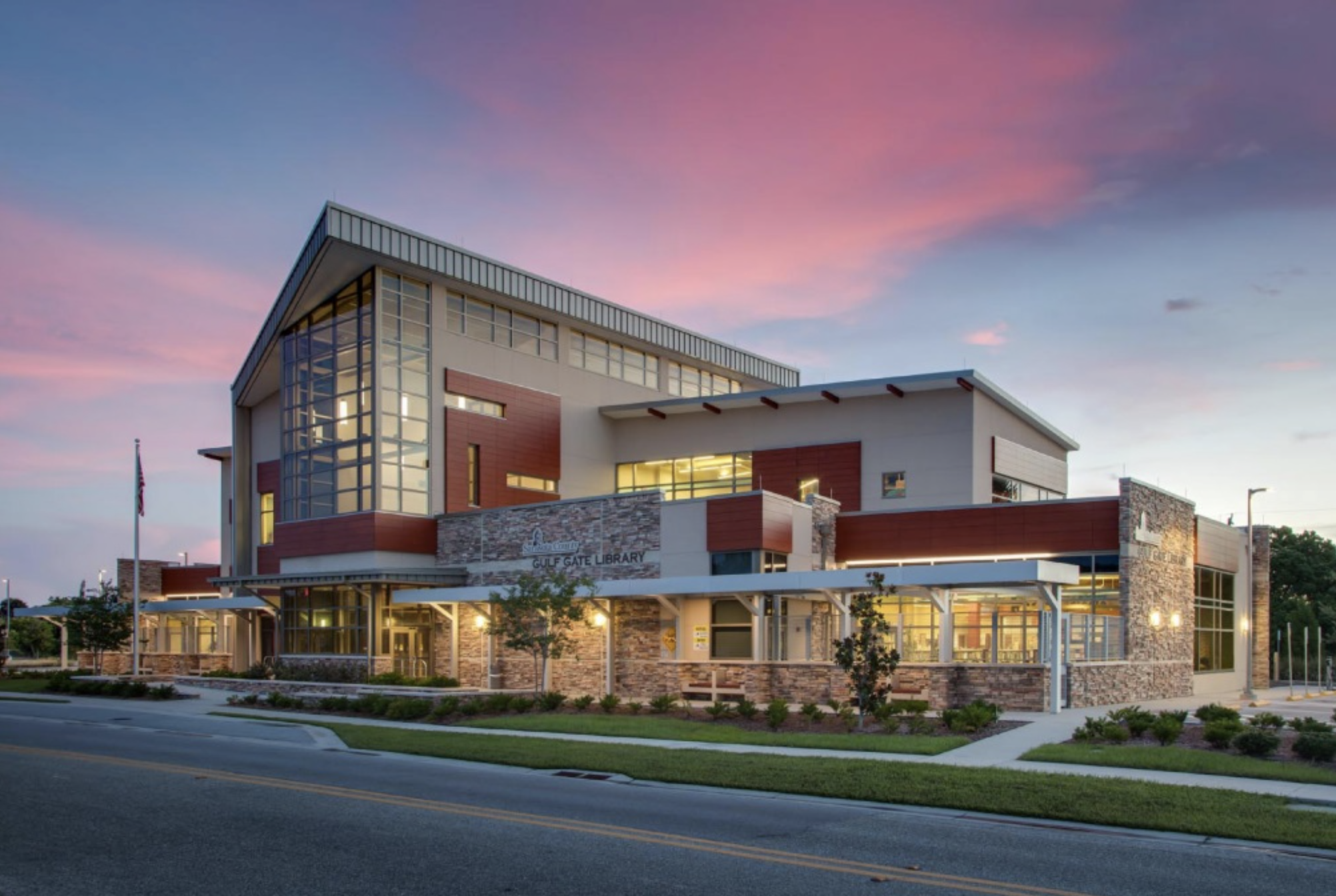 Gulf Gate is a vibrant community of young and mature families, empty nesters, singles and retirees. The neighborhoods boast wide streets with sidewalks on both sides, making it an inviting place for walking, jogging and biking. The community is minutes away from the white sandy beaches of Siesta Key, and offers easy access to well-regarded restaurants, shopping, educational and cultural activities, bike paths and other sporting and athletic complexes.
The recently redesigned Sarasota County Public Library Gulf Gate Branch reopened in January 2015, receiving LEED-Silver certification for sustainability and was named Florida's small public Project of the Year.
Gulf Gate Elementary School is a Florida Grade A school and recently received the Golden School award for exceptional community involvement.
Gulf Gate Village
The adjacent Gulf Gate Village hosts an abundance of small, local businesses, from restaurants and bars, to gift shops, bakeries, jewelry stores, consignment stores, specialty shops for organic, vegetarian, ethnic (German, Italian, British, Korean, Scandanavian, and more) items, and a variety of services, such as shoe repair, hair and nail salons, and auto shops.
Source: Gulf Gate Community Association
Gulf Gate, a south Sarasota community of ranch style single family homes, has its own eclectic shopping zone made up of small boutique style entrepreneurs called the "village" which lies adjacent a large mall with Publix as an anchor and within a couple of miles are even large shopping centers like Westfield, Sprouts, Ulna and a Theatre Complex, the community is 2 miles to the beaches of Siesta.
There are the communities within Gulf Gate known as: Gulf Gate Woods, The Estates, Gulf Gate East, Beneva Oaks and the Lakeshore Village.
Each of these communities features a different style of homes reflecting the era of development by decade. 1960 & 1970's ranch style from Sarasota architectural history predominate in Gulf Gate, the Estates and Gulf Gate East, whereas the 1980's and 1990's are reflected in Beneva Oaks and the Lakeshore Village. Due to the premium location of this well established original neighborhood, most of these homes are being constantly updated and refurbished to be sleek retro-modern highly desired mid-century homes that reflect the American celebration of all things mid-century.
Gulf Gate Community Association | Sarasota, Florida
The Gulf Gate Community Association, Inc. (GGCA) represents over 1500 households in the neighborhoods of Gulf Gate, Gulf Gate Woods and Colonial Terrace in the County of Sarasota, Florida. Founded in 1963, GGCA is incorporated under the laws of the State of Florida as a 501(c)4 non-profit corporation.
The GGCA is a volunteer organization which advocates for the Gulf Gate community, protects property values through deed restriction enforcement and improves the quality of life by organizing security patrols, conducting beautification and infrastructure management and by manning a Community Emergency Response Team (CERT). Annual dues for membership in the GGCA are $75.00 due each January 1st. Each member household has one vote in association matters. Non-voting association memberships for renters and other supporters are also $75.00 per year.
ZIP: 34231